---
---
These platform heels have changed the fashion world.   They are unique, original and in high demand!   With their gorgeous appearance, you will quickly see why they are rapidly becoming common place for a casual jeans and sweater look, and / or a sophisticated , classy, dressy option.   You will be wearing a true conversation piece getting the same reactions that the original artwork has brought to many art galleries in the past.    The designs are taken directly from the Nocturnal Abstract 222's original artwork that has been featured in many art venues. 

The platform style heel has a 4.13 inch heel. 
The heels are extremely comfortable and great for the office, dinner, the club, or just for when you are feeling trendy.

Features:
• The Brown Series shoe has a brown sole and interior by design.  Designed for high fashion trendy women, stylish and personalized with a street style streetwear urban vibe. The designs are taken directly from the Nocturnal Abstract - Abstract Artwork that has been displayed in many art galleries and magazines.
• Canvas vamp and heel cover, features all-over print of the abstract artwork.
• Faux pigskin microfiber lining, wearing soft and comfortable.
• Rubber outsole for anti-skidding function and exceptional durability.
• Trendy high fashion style with elegant urban streetwear design, are comfortable and easy to put on and take off.
• Heel measures approximately 4.13 inches /10.5cm for our platform heel option.
• Hand wash only. The print on shoes is unable to fade. 

Available Size: US5,US6,US6.5,US7,US8,US9,US10,US11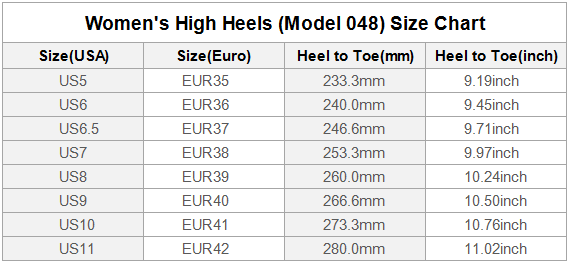 Unique, trendy, urban, classy, high heel with street style, streetwear vibe. These are an amazing option for all occasions. You will be sure to turn heads and create conversation when wearing these amazing high heel shoes!!


---